Distributors
---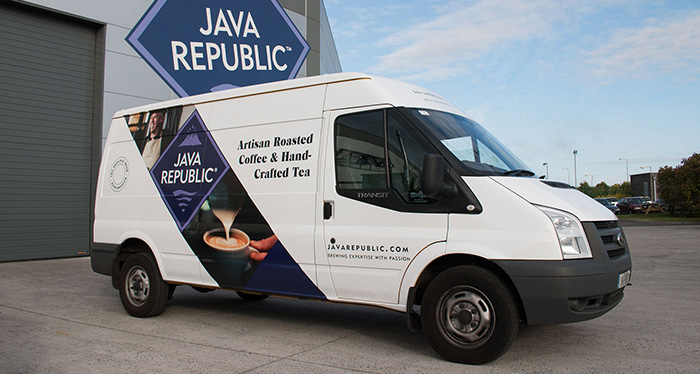 Java Republic has a strong team of foodservice distributors throughout the island of Ireland. Click on the distributor in your area for an introduction to the Java Republic brand.
Fintan Stanley
South East
Fintan Stanley of Fintan Stanley Ltd. has seventeen year's experience in the fresh coffee industry. He has a fantastic team. Eddie Cooney and David Elliot look after customer service, while Michael Breen looks after equipment service. Fintan and David are also both qualified to intermediate standard with the SCAE. Another member of the team, William Williams, is a Barista Trainer qualified to Professional level with the SCAE, and runs weekly training in their Waterford showrooms. Together they form a formidable team and have been brewing up a storm in the South East of Ireland.
Contact Details
Email: info@fintanstanley.com
Landline: 051-344000
Fax: 051-341117
Mobile: Fintan 087 230 6687
---
Island Beverage Company
South West
At the Island Beverage Co we have a dedicated team of highly skilled staff who understand your requirements within the hot beverage sector. Kieran White and his team have over 12 year's experience in the coffee industry and have a vast knowledge of the latest trends and are available to discuss all aspects of your business from fit out to machines and serving your first cup of coffee.
We pride ourselves in offering our customers a reliable, responsive, competent and professional service from deliveries to machine repairs along with assisting with marketing and promotions to help increase your sales turnover.
Our Quality and Barista Manager, has completed the SCAE Speciality Coffee Association of Europe Professional Barista programme. Paul's knowledge and understanding of coffee with regards to reaching High Quality standards in every cup is outstanding and he is available to assist in your business to ensure your customer returns for a Second Cup of Coffee. We offer all customers training in our Barista Room based in Bandon or alternatively onsite training to suit your requirements.
Contact Details
Address: Unit 9 Bypass Business Park, Bandon, Co. Cork
Email: kieran@theisland.ie
Landline: 023 88 29986
Fax: 023 88 20771
Mobile: 086 810 8557
---
Galway Bay Coffee Company
West of Ireland
Galway Bay Coffee Company distributes Java Republic Coffee throughout Galway, Sligo, Mayo, Clare & Limerick
Contact Details
Address: Oldenway Commercial Park, Ballybrit, Co. Galway
Email: info@galwaybaycoffee.com
Landline: 091 760960
Fax: 091 768862
Mobile: 087 7452911
Website: http://www.galwaybaycoffee.com