Coffee Scene in Athens
This December, our Java Republic Coffee Quality Consultant Luis Alvarez travelled to Athens, Greece, to take part in the latest Specialty Coffee Association Train the Trainer course (AST Certification). Not only did he get to meet other coffee experts, but he also got the opportunity to visit some local coffee shops. Here he has shared some of his experiences with us: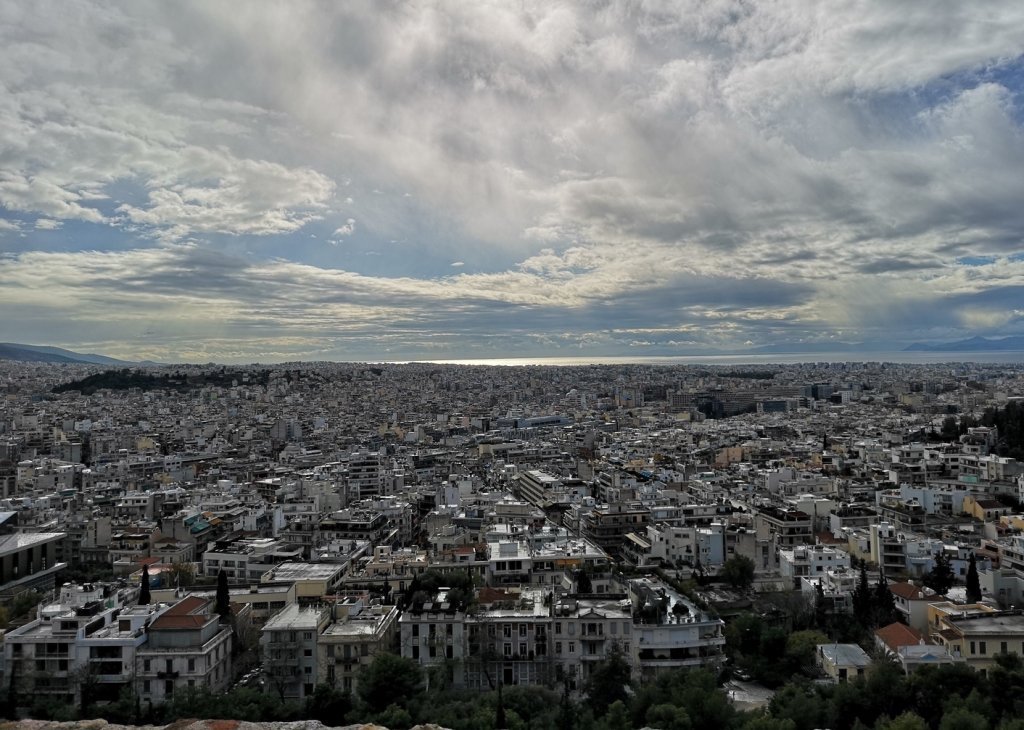 Athens, what a vibrant city!
One can easily feel the fast paced environment in a city full of ancient mythology and history. Streets full with vendors, exceptional coffee, unreal food and superb hospitality. The airport and the metro system are quite modern, in contrast with a city that can visually show the effects of the economic depression.
However, Athens shines with an underground lifestyle that many cities would envy. Award winning cocktail bars and coffee shops run by award winning baristas. I was surprised to see that coffee shops open until very late, some of them are even open until midnight. Almost every coffee shop is a micro roastery too. It's worth mentioning places such as "Peek a Bloom", a bar in which coffee and cocktails can co-exist. Chill-out music with live DJ next to a café with a roaster at the back and in front, a full cocktail bar with some of the best ones you can find in Athens. It was a bit surreal but I'm completely sold.
Greece is always in the top positions in terms of International Coffee Competitions, and I could witness this in a coffee shop called "The Underdog", in which they proudly exhibit three Coffee in Good Spirits World Champion trophies, and several 2nd and 3rd places. It is no surprise to know that they roast their own coffee, they open late and they also have a cocktail bar inside. I had an amazing Ethiopian espresso there.
I went to coffee shops that vary from a more informal approach in city centre to some in which I felt I was entering a club. I can think of places such as "Mokka" where I could taste a freshly roasted Ibrik (or Turkish) Coffee, brewed traditionally over hot sand. Another place was the very high end coffee shop "Coviar", with an amazing decoration, one of the longest espresso machines I have ever seen, and a coffee bar that anyone could envy.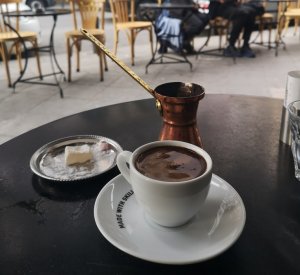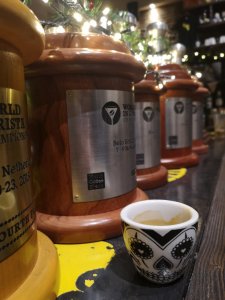 Visiting the Acropolis Museum is an amazing learning experience, the entire building is built over an archaeological excavation with a glass floor. Climbing the Acropolis itself and understanding that it's around 3000 years old is a pretty surreal and mind-blowing experience, and finally taking a picture in front of the Parthenon just gives you a glimpse of what Ancient Greece was, and what it was like to live in the times or great bronze statues of Athena and the Olympian Gods. I also got to visit the remains of the Temple of Zeus and the Panathenaic Stadium, home of the first Olympic Games of the Modern Age.
What can I say about Mediterranean food? Feta cheese, sun-dried tomatoes, olives and olive oil, gyros and more (I will stop, otherwise I start drooling). I got to meet some amazing Greek colleagues, many of which are roasters from different parts of Greece and with whom I could share that passion.
I always find something exciting in every place I visit, and Athens will always stay in my heart as a place full of surprises, contrasts and some of the most welcoming and fun people in Europe.

Ευχαριστώ για την Αθήνα!
(Thanks for everything Athens!)