When it comes to brewing coffee we take things very seriously. That's why we want you to be able to brew the perfect cup at home. You can buy everything you need in our Home Barista shop HERE & you'll find a full step by step guide on how to make the perfect Aeropress below. Remember coffee is all about personal taste so play around a bit to find out what suits you best!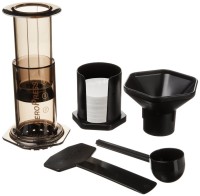 Get The Grind Right
Before you start make sure you have your grinder set to the correct grind size. For Aeropress the grind should be somewhere between the consistency of powdered sugar & fine salt.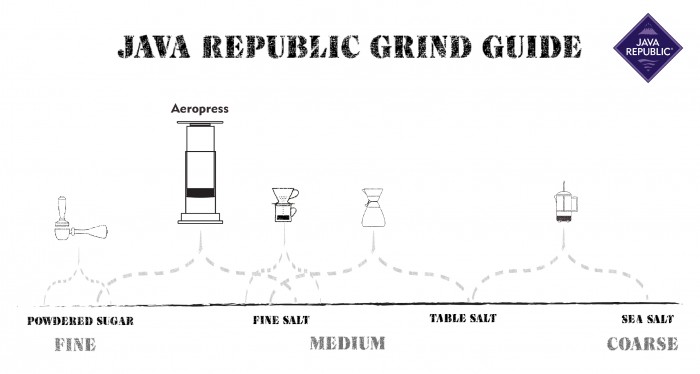 Step 1
First, measure and grind 14 grams (1 round AeroPress scoop or 3 Tablespoons) of fresh Java Republic hand-roasted coffee.
---
Step 2
Place the plunger upside down inside the brewing tube with the black rubber part touching the bottom of the number 4 circle and the top of the plunger on the table.
Rinse the filter with hot water and preheat the inverted brewer.
---
Step 3
Carefully add your coffee into the inverted AeroPress using the funnel provided.
---
Step 4
Next, start timer and pour hot water (about 30 seconds off the boil or about 92 degrees centigrade) into your brewer, saturating the grounds, and pouring to the top of the 3 level.
Allow coffee to bloom for 30 seconds.
Use the AeroPress paddle to give a thorough stir.
---
Step 5
Next, pour enough water to bring the level to above the level 1 circle (total 220ml of water) & place the rinsed filter and black cap on top of brewer and screw it tightly.
---
Step 6
When timer reaches 3 minutes then flip the brewer on top of your mug and plunge with gentle and steady pressure, stopping as soon as you hear a hissing sound. Total plunging time should be approximately 30 seconds.
Enjoy.
---