World Coffee Events Championships
Renata Malyszko has worked with Java Republic for 4 years as a Coffee Quality Consultant. Every day she works closely with our customers and partners, ensuring that they get the best advice, service and coffee at all times.
"What I love most about my job is meeting amazing coffee people with whom I can share knowledge, experience and passion".
Originally from Poland, Renata has lived in Ireland since 2006. She is lucky enough to hold a coveted position as a judge in the World Coffee Events (WCE) Championships, which sees her travelling all over the world each year. She is a Certified Judge in 5 WCE Championships and is one of only 3 people in the world certified as a Sensory Judge in the World Coffee Roasting Championship.
In November 2018, Renata travelled to Brazil to judge the 2018 WCE Championships. Here she tells us about her amazing experiences…..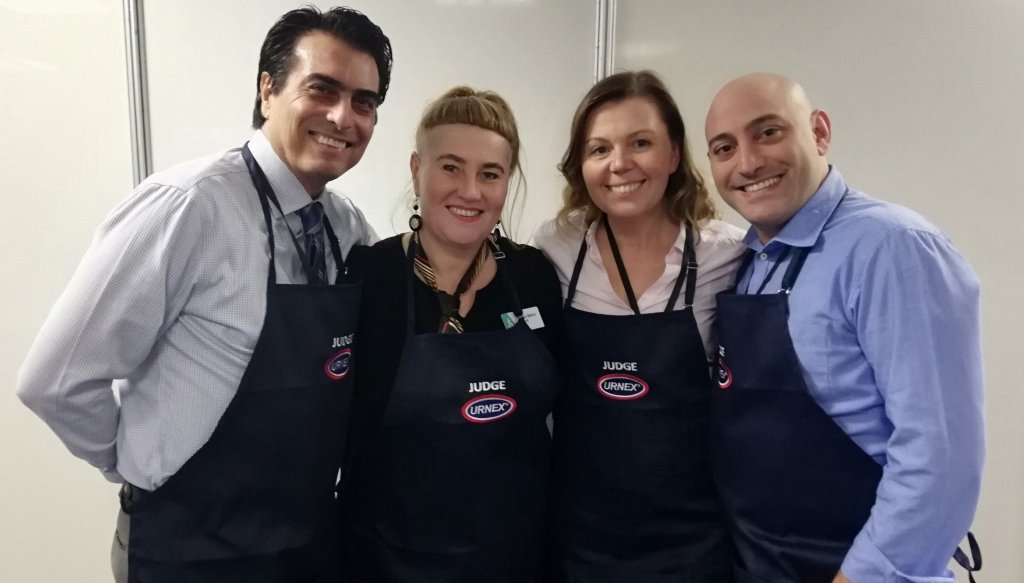 (WCE Certified Judging Team)
"Getting the opportunity to travel to Brazil was amazing for me! Not just because it is a new country that I have never seen before, but because it is the world's largest producing coffee country. It accounts for one-third of the world's overall coffee production every year! It is one of the most developed nations in terms of coffee production and has a total of 14 major producing regions, meaning that there is a large variety of coffee coming from the country".
Why is it important to judge the world?
"The World Coffee Championships are the preeminent international coffee competitions produced annually by World Coffee Events (WCE). The competitions are focused on promoting excellence in coffee, advancing the barista profession, and engaging a worldwide audience with an annual event that rounds off a series of local and regional events held around the globe. Each year, more than 50 competitors enter this competition. The WCE Championships are very prestigious and being a judge on that stage is considered to be an exceptional experience and a phenomenal opportunity to learn from the best industry experts – both competitors and fellow judges".
What it means to me?
"Coffee plays very important role in my life. It's my job but also has been my real passion from the first moment I started work as a barista. So much has changed for me since then. My coffee journey unexpectedly brought me to the world stage as the judge. It is a very unique experience and there are a number of reasons as to why I am so passionate about judging worldwide. The world stage is the gathering place of all the best coffee professionals and for me this is great opportunity to share knowledge, experience and learn from coffee experts from so many different backgrounds and cultures. This is also a chance to meet people who speak the same "coffee language" as me and to develop friendships all over the world which I know will last for a long time. The coffee industry is evolving very fast and attending events like this keeps me updated on new standards and trends".
What happened while I was in Brazil?
"My original idea of going to Brazil was to attend World of Coffee 2018 event in Belo Horizonte as a Visual Latte Art Judge, as I have been certified in this competition for a number of years. However, along the way there was so much more going on that my journey turned out quite different than expected!
My first stop was São Paulo and the WCE Judges Certification which was taking place in Octavio Café. Octavio is renowned in Brazil, having been instrumental in shaping the coffee industry since 1890. Today they operate 5 cafés in Brazil, with coffee produced on their farms in São Paulo".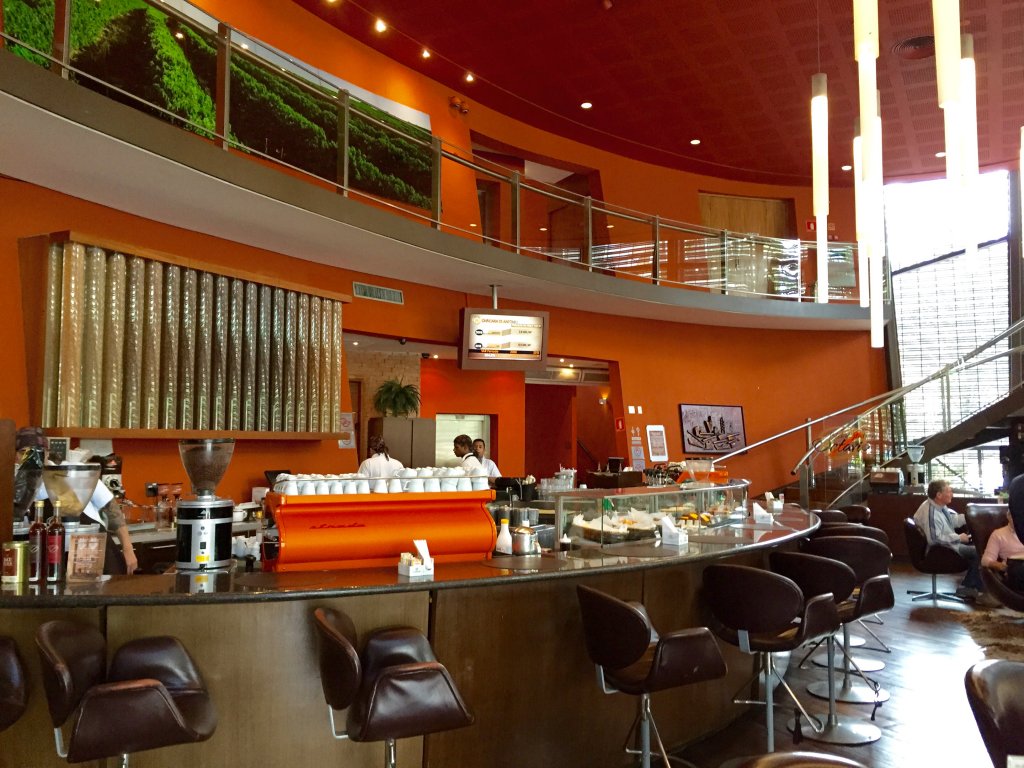 (Octavio Cafe)
"When I arrived in São Paulo I was already certified as a Visual Judge in the Latte Art Championship and as a Sensory Judge in Brewers Championship. My goal was to pass my certification exams for the World Barista Championship which is considered the main coffee competition. However, along the way I was presented with the opportunity to be certified in two other competitions – the Coffee in Good Spirits Championship and Roasting Championship. I was completely overjoyed when I found out that I passed all exams!!! After getting my certification in São Paulo, I flew to Belo Horizonte where the World Of Coffee 2018 took place. This is a massive event spread over 3 days in which the coffee experts from around the world come together to exhibit, share knowledge and compete in a friendly yet competitive environment.
At this event I was lucky enough to be able to judge two competitions – the Latte Art Championship as a Visual Judge and the Coffee in Good Spirits as a Sensory Judge. The Coffee in Good Spirits Competition is very interesting as competitors have to serve mixology drinks based on specialty coffee and alcohol, which isn't easy to get the perfect balance. Competitors have to prepare 4 drinks where two of them are identical hot beverages based on coffee and alcohol, and two others are identical cold beverages  based on coffee and alcohol. Those beverages are then tasted and scored by two sensory judges, one technical judge and one head judge. This was my first experience on the world stage judging this particular competition.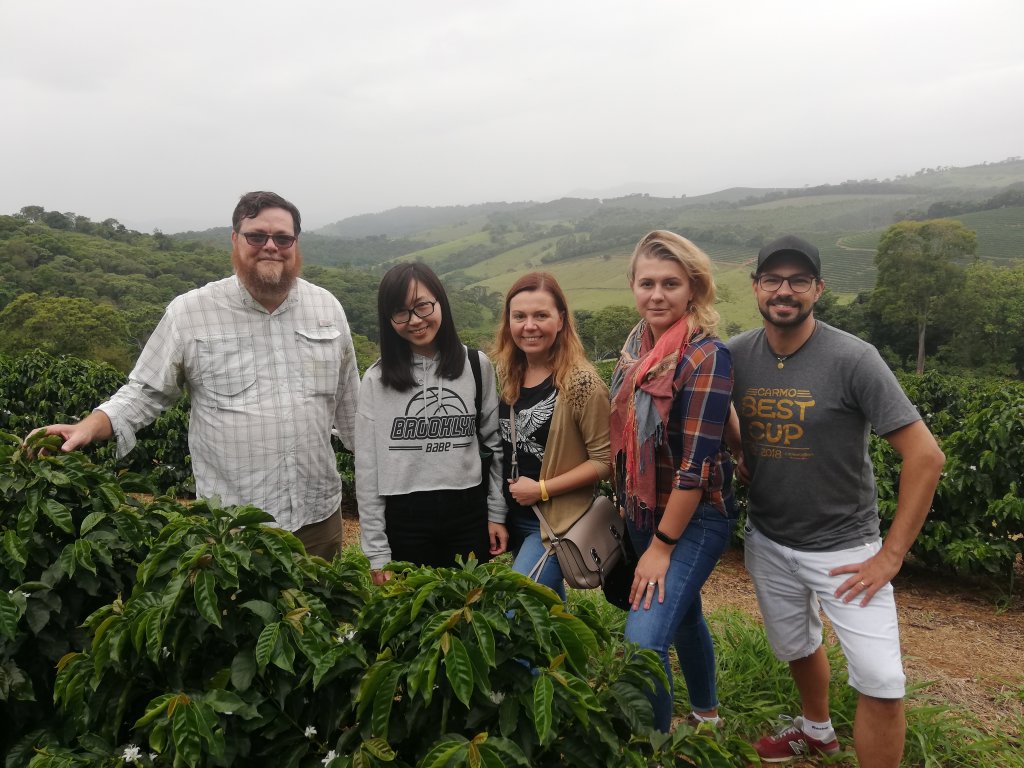 (Coffee plantation in Minas Gerais)
Being in Belo Horizonte also gave me the opportunity to visit real coffee plantations for the first time. The place I have visited was Carmo Coffee, a green coffee trader where we had cupping sessions with their regional coffees and then we were brought to the coffee plantation to learn about the history of the region, the different coffee varietals, the impact of weather conditions and how everything affects the final result in a cup of coffee. Carmo Coffees is located in the southern part of Minas Gerais state, a region naturally gifted with unique conditions for the production of specialty coffees, with fertile soils, a predominance of sunlight and high elevations that vary between 900 and 1, 500 meters (2,900 to 4,900 feet).
Carmo Coffees is part of the Serra da Mantiqueira micro-region, which comprises over 7,000 coffee growers with an estimated output of 1 million bags. It was the first in Brazil to obtain the Geographical Indication seal for coffee in 2011, which indicates that coffees produced in this region has unique qualities and features that are essentially attributed to their origin.
Rio de Janeiro was the next stop in my coffee journey. My intention for this part of the trip was to purely relax, however as a coffee addict I couldn't resist from continuing to drink coffee and visiting more coffee places!"
Cafés I visited in Rio:
Sofa Café – located not far from the beautiful Copacabana beach. It is a really nice little cafe with cool decorations and great coffee. They have all the different options to choose from (filter, aeropress, syphon etc). There was a large variety of food also, including delicious cakes (many of them gluten free) and the best Tapioca I ever tasted!
Coffee Five – little café located in Galleria Sur America in Rio. They only have the option for  takeaway coffee, but the staff are very friendly and open for long conversations about coffee!
Curto Cafe –  a really cool place run by young people who make excellent coffee, bread, pizza, pastries and sweets. Top class cooking, ingredients, nice people and music. At peak times (between 12 p.m.–2 p.m.) things can get crazy. Huge lines will form in front of each La Marzocco (one for espressos only, the other for cappuccinos—their only two coffee options). What makes this place different is that besides an excellent coffee, you pay according with what you think it is worthy. Highly recommended while visiting Brazil.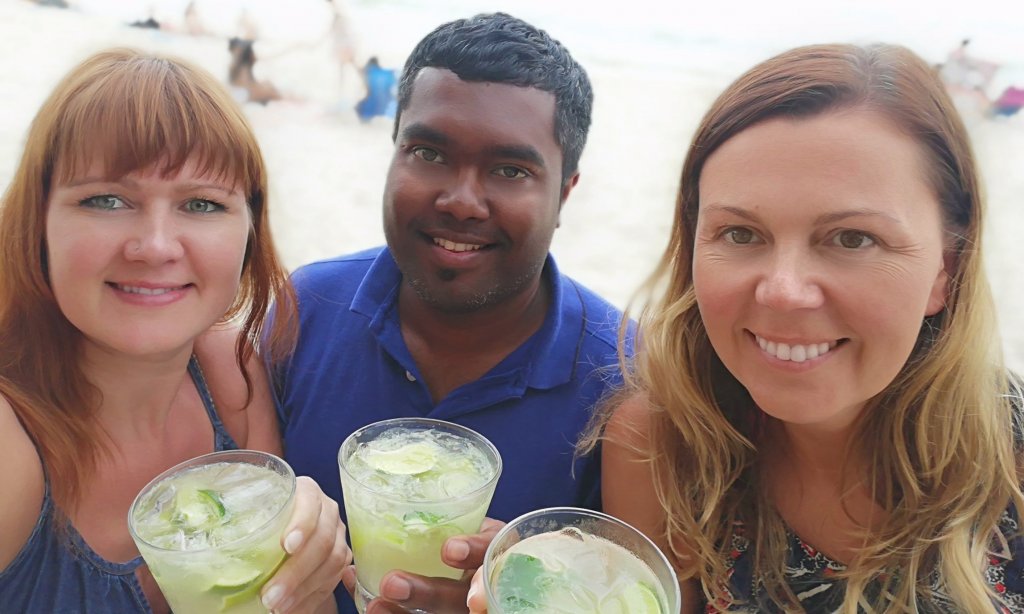 (Irish Latte Art Champion Renata Khedun, Irish Barista Champion Arvind Khedun with Renata Malyszko, enjoying Caipirinha – a traditional cocktail in Brazil)