Home Barista
---
At Java Republic we are passionate about coffee and we want you to be passionate about it as well. The information below will tell you everything you need to know about making the perfect coffee at home & you can buy everything you need from our online shop.
5 Steps to Brewing the Perfect Coffee at Home
1. USE WHOLE BEANS
We only offer whole beans because it allows you to achieve the best coffee. It takes a little longer to correctly grind the beans but the end results is a much higher quality drink in your cup.
2. CHOOSE YOUR BREWING METHOD
Want to know more about coffee? Want to be able to grind your own beans, brew & serve your own coffee? You've come to the right place. At Java Republic we believe in beans. We believe in supplying you with only Grade 1, whole, Arabica beans that have been roasted to perfection & packaged ready for you to enjoy.
3. IT'S ALL ABOUT THAT GRIND
At Java Republic we never compromise on quality & we don't want you to either. That's why we only sell whole coffee beans. Freshness is key to brewing the perfect cup & this cannot be achieved if you're using preground coffee. We offer a selection of easy to operate manual & automatic grinders so that you can have freshly ground coffee every time.
4. WEIGHING UP YOUR OPTIONS
Once you've chosen your beans, picked your brewing method & perfected your grind, the final hurdle before brewing the coffee is ensuring that you're using the correct amount. Ideally you weigh your coffee to the exact gram using scales but if you're not that advanced you can make an educated guess using a measuring scoop or even a standard tea spoon.
5. BREWING YOUR COFFEE
So you've gone through the 5 steps above and now it's time to make your coffee. Click on the relevant brew method below and let us walk you through exactly how to prepare the perfect brew:
Brew Guides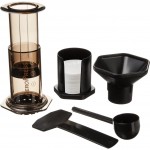 The AeroPress by Aerobie, Inc. brings out the best in every bean. Its unique brewing method gives the richest coffee flavour, with less bitterness and acidity, and no grounds left in your cup! The AeroPress® gets rave reviews. For example, BonAppetit Magazine says it makes "fantastic coffee". The Globe & Mail calls it "amazing".
---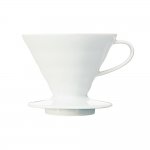 Designed for the manual, pour-over style of brewing, this simple device brews extraordinary coffee right into your cup or serving vessel. The rich, aromatic brew flows through the cone into your cup or coffee pot. For optimal extraction, the brewing cone features a precisely angled design and spiral-ribbed side walls. A large hole at the bottom of the cone allows coffee to flow freely, so you can customize flavour and strength with the speed at which you pour the hot water (quickly for lighter coffee or slowly for a darker brew).
---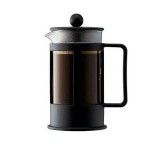 The French Press from Bodum is made out of heat resistant, high quality resin and is dishwasher safe. But our personal pet peeve with french presses isn't just that the ones that are easily available here are easy to break, but that the filter that sieves out coffee grounds weakens over time and lets in grounds into the cup of coffee. The sieve of this well designed french press is securely surrounded by rubber which means no breakage and no grounds in your french pressed coffee. This french press can brew two smaller cups of coffee (think Indian tea cup sizes) or one large mug of coffee.
---