Touchless Office Coffee Machines
The last year has had a significant impact on how we live our lives in many ways. From how we socialise to how we spend our free time, arguably one of the most heavily impacted aspects of our lives has been our daily work routine.
As offices closed their doors around the country and employee interactions moved online, the knock-on effect on coffee consumption was profound. While people were busy setting up their home offices and settling into a new way of working, the desire for a premium cup of coffee within the home became one of the most sought-after luxuries. As a result, people invested in home brewing equipment more than ever before, and in time, the term "home barista" became commonplace.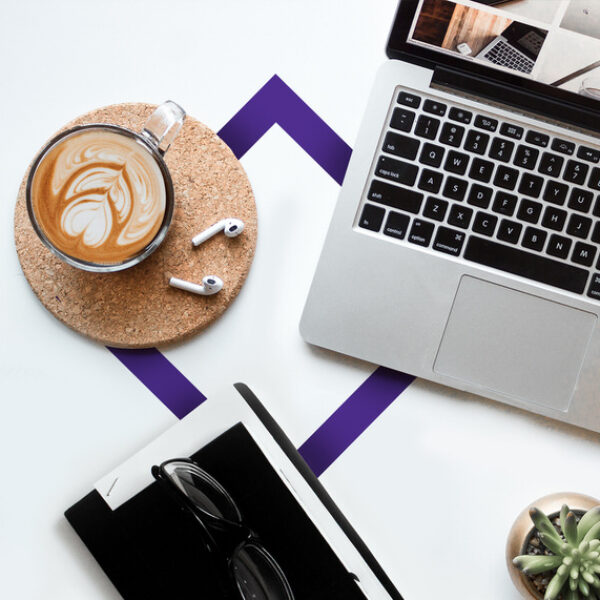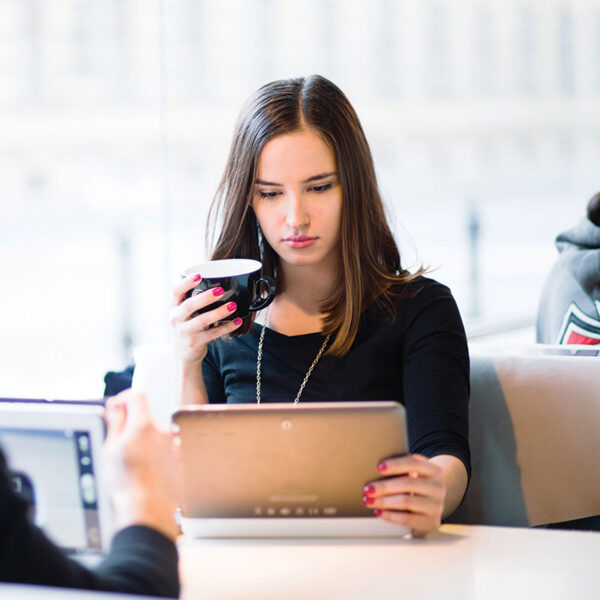 Fast-forward to today, and as the vaccine rollout gets underway throughout the country, offices are preparing to welcome employees back to work. Office life, however, will undoubtedly be very different from pre-Covid times, including how people consume coffee within the workplace.
Everyday coffee drinkers have spent the last year transforming into home baristas. Therefore they are more likely than ever to seek out premium coffee when they return to the workplace. Keeping staff on-site and minimising the movement of people in and out of your doors daily will be crucial in helping to reduce the risks of contamination.
Therefore, providing a barista-quality office coffee offering will help eliminate your staff leaving the office searching for a good cup of coffee. Not only that, but for offices offering employees the choice of whether or not to remain working from home, providing a premium offering could be vital in tempting them back to the office.
At Java Republic, we are proud partners with some of the largest workplaces throughout the country, delivering a premium office coffee experience to thousands of employees over the last 20 years. Our knowledge and expertise are such that we provide our partners with the best solution to meet the changing needs of their staff every day. Since Covid-19, we have adapted our offering to help our partners overcome the new wave of challenges they faced.
Introducing the new Rex Royal Cloud: touchless office coffee machines
To support our office partners in providing a safe environment for their employees, we are delighted to introduce the Rex Royal Cloud application to offer our existing range of office coffee machines. Rex Royal is a leading supplier of commercial bean-to-cup coffee machines.
The Cloud application is top of the game in providing consumers with a safe and hygienic coffee experience without compromising quality. This touchless automatic coffee machine provides a connectivity solution that will optimise the background for your employees and provide you with a range of benefits such as remote access, reduced on-site maintenance, and real-time data on consumption patterns.
Your staff will be in control, as they choose their coffee, their way, without ever having to make physical contact with the machine. The result is a safer environment for your employees, as well as peace of mind for you, knowing that your staff aren't leaving the workplace in search of premium coffee elsewhere. The Rex Royal Cloud will produce a quality barista-style coffee every time.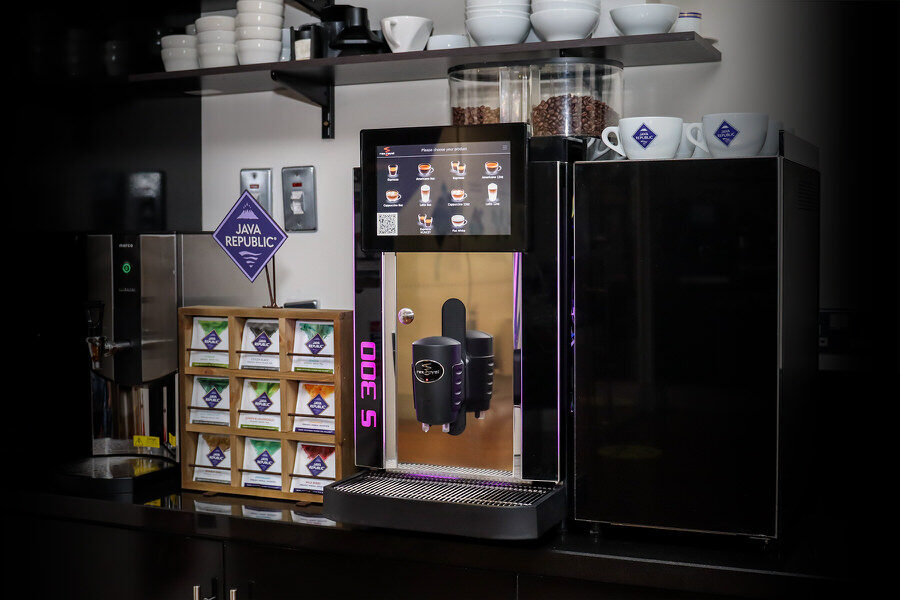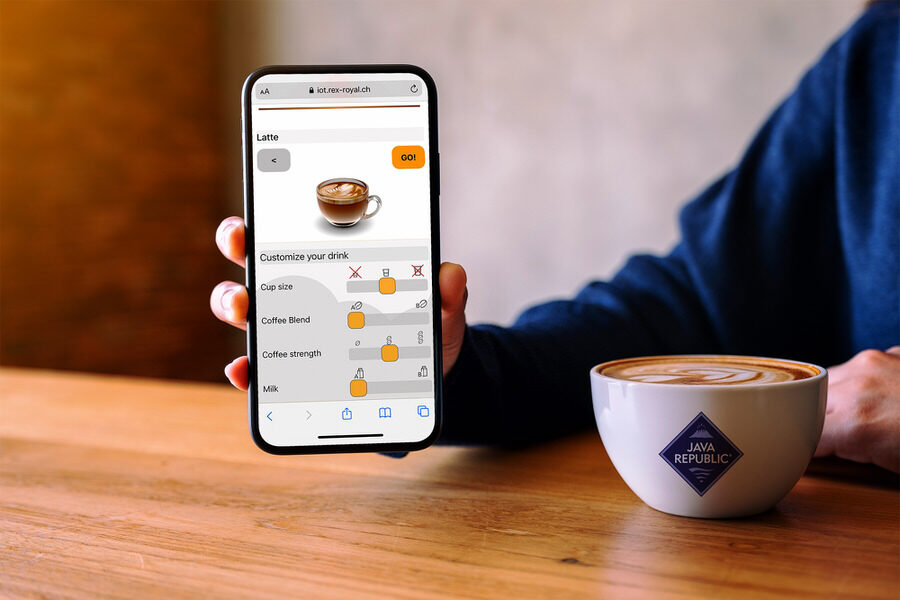 Features & Benefits of the Rex Royal Cloud
1. SmartOrder
The Rex Royal Cloud SmartOrder technology puts your staff in control. Using a smartphone's camera to scan a QR code, consumers will be able to customise their coffee order with just a few taps on their smartphone.
As a result, the high risk of contamination posed by having potentially hundreds of staff touching the same surface over and over is eliminated in an instance, giving you one less thing to worry about when it comes to making your office Covid-friendly.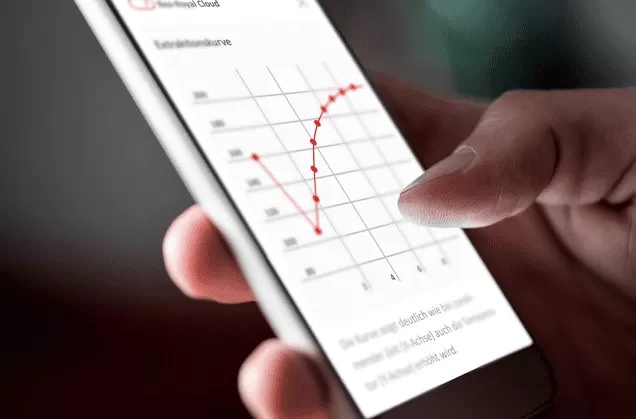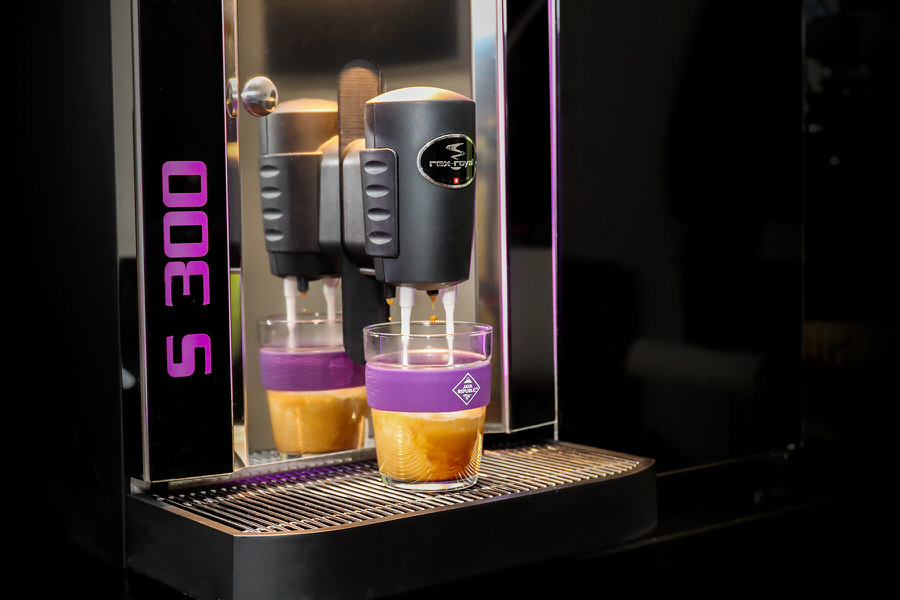 2. Quality
The Rex Royal Cloud puts quality to the fore through its intuitive technology. Not only does it supervise the extraction of the coffee, but it enables the monitoring of cleaning and water filter capacities, ensuring that all of the variables in creating a premium cup of coffee are met with ease.
3. Data
Optimise your office coffee offering through Rex Royal's data analysis capabilities. The Rex Royal Cloud is a comprehensive telemetry solution that will give you a complete insight into all of your coffee machines. From monthly sales reports to the monitoring of consumption trends, you can stay on top of the needs of your employees while prioritising their health and safety.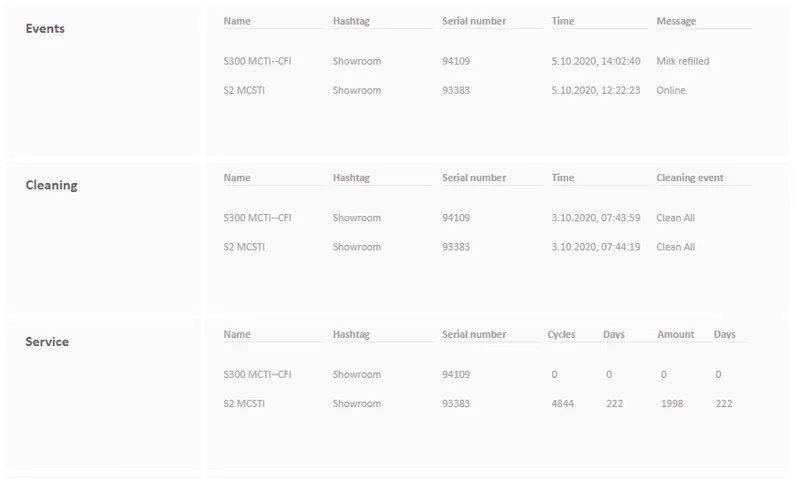 4. Predictive Maintenance
Coordinate and plan machine maintenance quickly and efficiently through Rex Royal's predictive maintenance capabilities. Information is delivered in real-time, allowing you to make relevant and informed decisions.
5. Remote Access
The remote access functionality gives you control of your machines from anywhere and anytime. Change software settings and functions and get visibility on error messages directly from your PC. The remote access feature significantly reduces the need for on-site maintenance, meaning that you can continue to limit visitor numbers to your office.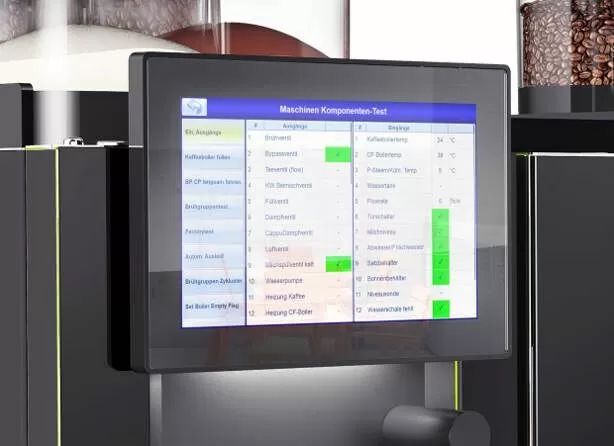 How can Java Republic help you.
Along with Rex Royal Cloud, Java Republic will provide you with the top-quality service and support that we are renowned for. We have local teams based throughout Ireland who will work closely with you to ensure that you get the most out of your office coffee connectivity solution.
Not only that, but you can be confident that your coffee has been ethically sourced and sustainably roasted. As winners of Sustainable Manufacturer of the Year 2019, Java Republic is a leader in giving back to communities and the environment.
For more information on how we can help you provide the best office coffee solution as your staff begin to return to work request a call from our sales team.