Latest tweets
RT @vinibarista: A few spots left @JavaRepublic SCAE Barista Professional course next week! for more info check our website 😉 https://t.co/…
Boooooom! 🇮🇪 https://t.co/NTEeWDuTOW
@JTMoomin @jenoconnell try the Miti Mota ...pure wonder in a cup ;)
@JTMoomin @jenoconnell and in our lovely cafe on Molesworth St. We'll even make you a coffee on #aeropress :)
Welcome to Java Republic
Java Republic is a, proudly independent, Irish owned Company founded in 1998 by David McKernan. David set up the business to take advantage of a gap in the premium coffee market in Ireland. With his passion for fresh, hand roasted coffee and for setting the industry standard for ethics in coffee Java Republic successfully challenged the coffee industry norms in Ireland. 
We are proud to have recently relaunched our new website where you can buy coffee & tea online.
From our humble beginnings in 1998 David has gone on to establish Java Republic as a staple in the landscape of the Irish coffee industry. In 2008 we built the world's first, purpose built, Carbon Neutral Roastery in Ballycoolin, Dublin 15 and over the years we have extended our portfolio to include both hot chocolate and a range of premium Speciality Teas. The business is focused on supplying out-of-home customers in the food service sector, such as hotels, restaurants, cafes, corporate catering and at home customers through high end independent retailers, across the whole of Ireland. Find out more about the history of the company HERE. 
Latest News
Watch Out Dublin, Here Comes World of Coffee
One tiny cherry, roughly 10mm wide, is the tiny foundation of our world. A world that serves over 500
READ MORE
New Product
Gunpowder & Mango Green Tea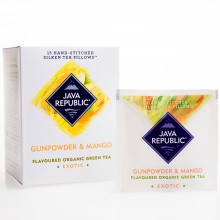 Exotic – an exotic explosion of unique flavours; sweet, ripe tropical fruit and flowers.
BUY NOW